By Jenni Trebon
Regional VP, Southeast Region, Business Development at The Medicus Firm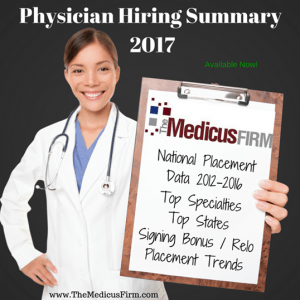 Article submitted by Jenni Trebon, to share a health insurance update. If you'd like to submit an article, email Kelly Sawyer at cflmgma@gmail.com.
The Medicus Firm's annual hiring summary, based on hundreds of physician placements nationwide throughout 2016, reveals a number of key physician recruiting and hiring trends.
Members of Central Florida chapter of the MGMA may email Jenni Trebon jtrebon@TheMedicusFirm.com for a complimentary copy of the full report!
Below are a few highlights of the 2017 report:
Signing bonuses increased in average amount and utilization rate in 2016. Including physician and non-physician placements, 88 percent of candidates placed were paid a signing bonus. Additionally, 4.2 percent of physicians were offered a six-figure signing bonus ranging from $100,000 to $200,000. The average physician signing bonus paid in 2016 was $24,802, up from $23,663 in 2015.

Placement rate of advanced practice clinicians increased significantly for the fourth consecutive year. Placements of physician assistants (PAs) and nurse practitioners (NPs) has grown steadily since 2012, when only 1.32 percent of total placements were non-physician providers. In 2016, non-physician advanced practice placements comprised 12 percent of total provider placements, up from 8.3 percent in 2015. Physician assistants were the 2nd most frequently placed provider, and nurse practitioners were also among the top ten providers.

Primary care comprised the majority of physician placements again in 2016. Hiring of internists, pediatricians, and family practitioners accounted for 35 percent of placements made in 2016.

Employment vs. Private Practice: Physician employment as a practice model continues to dominate physician recruiting activity nationwide, with 91 percent of physicians placed being hired as employees. This is consistent with 2015 employment rate of 92 percent.

Hiring of osteopathic physicians (DOs) declined to its lowest rate since 2012. However, the rate only fluctuates within a range of about five percentage points. Eight percent (7.98%) of physicians placed in 2016 were DOs, compared to 11.74 percent in 2015. According to AACOM, seven percent of practicing U.S. physicians are DOs, and 20 percent of medical students are studying osteopathic medicine.

Mid-sized communities (pop. 25,001-500,000) comprised 44 percent of 2016 placements made. The remaining placements were fairly evenly split between urban areas (29%) and rural communities (26%).
The Medicus Firm is an MGMA© Executive Partner
Awarded "Best Places to Work in Healthcare" by Modern Healthcare four years running.