Helping Independent Doctors Stay That Way | Weds., 10.12.16
You're invited!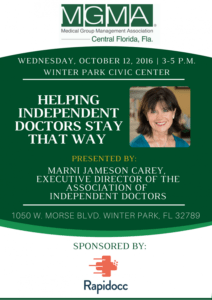 At our upcoming meeting on Wednesday, October 12, 2016, Marni Jameson Carey, Executive Director of the Association of Independent Doctors, will discuss how independent doctors can stay independent.
The pressure on independent doctors to join hospitals these days can be great, especially if they're not well insulated against acquisition. The more vulnerable providers feel in the face of that pressure, the more likely they are to succumb to it.
Presentation topics will include:
Trends driving hospitals to buy up medical groups
The ramifications
What doctors can do to stay independent
Why doctors should stay independent
About Our Speaker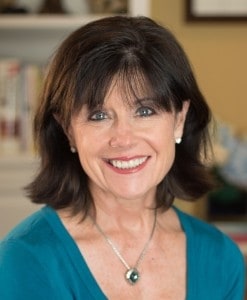 Marni Jameson Carey is the Executive Director of the Association of Independent Doctors, a national nonprofit designed to support the interests of independent physicians. Prior to assuming that role, Ms. Jameson was a senior health reporter for Tribune Media, writing for the Los Angeles Times and the Orlando Sentinel. She is also past president and founder of a medical marketing firm, author of two books, a nationally syndicated columnist, and frequent TV guest and speaker.