Health I.T. Checkup and New Regulation Preparation | Weds., 11.11.15
You're invited!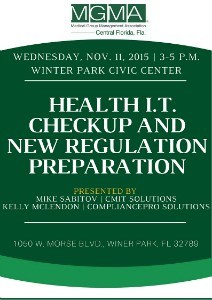 What should you expect in 2016 from an I.T. and new regulation standpoint? Join us to find out and jumpstart your 2016 plans with the information and updates you need to start next year (and beyond) off right.
You won't want to miss two highly informative presentations from Mike Sabitov of CMIT Solutions and Kelly McLendon of CompliancePro Solutions.
Presentation topics will include:
Security measures you need but probably don't know about
Easy ways to increase workflow production with I.T.
HIPAA privacy and regulatory compliance changes for 2016
About Our Speakers
Mike Sabitov founded CMIT Solutions of Central Orlando in 2007 and successfully grew the company year over year through one of the most challenging economic environments. He currently serves as a president and principal consultant of the firm. Mike is engaged with clients' senior management teams in strategic technology initiatives on daily basis with multiple medical practices in Central Florida. This provides him with unique insight in common business technology challenges and best practices.
Kelly McLendon has been a HIM practitioner for over 37 years and recently was awarded the 2015 AHIMA (American Health Information Management Association) 'Innovator' Triumph award. Kelly is a founder of CompliancePro Solutions, a company that has brought a state-of-the-art HIPAA privacy and security regulatory compliance product called PrivacyPro to the healthcare marketplace. He routinely works with a large network of healthcare providers and vendor business associates, as well as, volunteers for his time and expertise to professional associations, such as AHIMA and HCCA.