Challenges in the Medicare Quality Program Initiatives | Weds., 3.9.16
You're invited!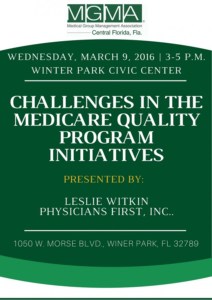 Join us to find out what challenges may arise in the medicare quality program initiatives and what you should be doing to overcome them.
You won't want to miss this highly informative presentation from Leslie Witkin of Physicians First, Inc.
Presentation topics will include:
Penalty Impacts 2016 thru 2018 – PQRS, Value Modifier, EHR Incentive.
Transitioning to the Merit Based Incentive Payment System (MIPS).
Changes you can make for PQRS & EHR CQM reporting to align and simplify.
What is a QCDR and is this the answer to full alignment now & in the future
What is a specialized registry for the EHR Public Health Measure?
Changes to the Value Modifier program and the EPs affected.
The miserable failure of CMS's 2014 PQRS & Value Modifier Analysis
What you MUST do to stay on top of analysis issues.
The CMS Enterprise Portal and EIDM logins.
Accessing Quality Resource Use Reports (QRUR) for the Value Modifier.
How long will the 2% sequestration reduction remain?
What happened to the promised 0.5% update to the 2016 Medicare conversion factor?
About Our Speaker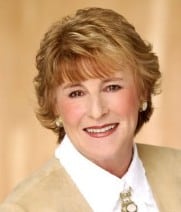 Physicians First, Inc. was founded in Orlando, Florida in June of 1990 by the company president, Leslie Witkin. Leslie is a graduate of the Dartmouth-Hitchcock School of Nursing in New Hampshire and has over twenty years of successful experience in medical practice management.Her long term healthcare career has fostered mutual respect in clinical and professional relationships with physicians, medical office personnel, state and federal legislators, and executives in other organizations that represent physician interests.
The goal of the company is to provide quality consulting services to help physicians achieve a successful business in a complex regulatory environment that allows physicians to be a physician first….the way it should be. Being highly pro-active and with steadfast commitment, the company has been successful in presenting testimony to both state and federal regulators resulting in resolution to physician issues and legislation related to prompt pay laws.
The company works directly with physician businesses to provide operational assessments, auditing, and other consulting services. In addition, Physicians First, Inc. has conducted and written comprehensive manuals for a variety of seminars both nationally and throughout the State of Florida. Topics for programs are always pertinent to the latest regulatory and operational issues facing the medical business.
The value of educational programs as well as the company's consulting services is more than documented in the references from both participants, administrators, and other executives who have utilized Physicians First, Inc. in their organizations.
Physicians First Inc. has published many articles, frequently renders opinions, and has served as a speaker for many national publications that cover a wide variety of physician specialties, coding, policy, and regulatory issues.