Maintaining a Personal Touch in the Electronic Age | Wednesday 3.25.15
You're invited!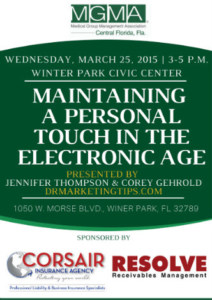 Did you know that searching for healthcare related information is the third most popular activity on the web? The world of marketing for your medical practice is changing, and if you don't change with it you'll be left behind.
As patients of all ages become more Internet savvy and social media-inclined, web-based businesses are responding by giving them more opportunities to voice their opinions via crowdsourcing to build online peer communities.
That's where online reputation management (ORM) comes in. The act of ORM refers to how you claim, manage, monitor and respond to your physician's online profiles. With popularity of sites like HealthGrades.com, Vitals.com, RateMD.com and even Google and Yelp, you can no longer afford to simply look the other way.
Join us to discover:
The 5 things you need to start monitoring your practice's online reputation today
What you can (and can't) do about negative reviews
Why not paying attention to rating sites could cost you big
How you can implement a system to monitor online ratings and reviews at your office
This presentation includes case studies, worksheets and real-world examples of what practices have done to take control of their online reputation and what it means for their bottom line.
About Our Speakers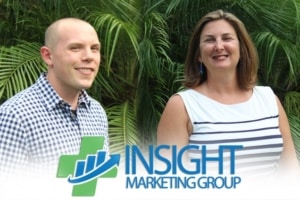 Jennifer Thompson and Corey Gehrold are co-founders of DrMarketingTips.com, a medical marketing learning system designed to help you market your practice easier, better and faster. Since 2006, Jennifer and Corey help medical practices of all sizes and specialties attract and retain patients online, in-office and around the community. They have written 5 books about medical marketing and have presented at several national conferences on the subjects of online reputation management and practice marketing.