Exempt vs. Non-Exempt: How Do I Know? | Wednesday, June 17, 2015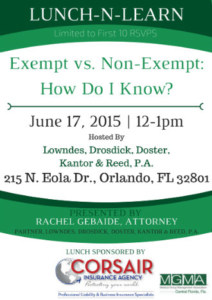 You're invited!
Join us  in this small group Lunch-n-Learn to discover:
How to tell if an employee is exempt or non-exempt
The pros and cons to being exempt
The biggest employment mistakes you might not even know you're making
Why employment law should matter to your practice
This Lunch-n-Learn event will include a presentation, a Q&A session with our speaker and lunch provided by Corsair Insurance Agency.
Note: You must RSVP for this event using the form below. Only the first 10 RSVPs will be able to participate in this Lunch-N-Learn event.
About Our Speaker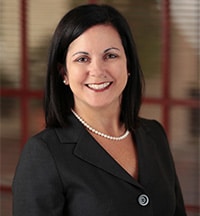 Rachel D. Gebaide is a Partner in the firm and Chair of the Labor and Employment Law practice.  She represents companies in the management of their human resources issues.
Rachel regularly represents employers in federal and state courts and before administrative agencies in defending against claims involving allegations of employment discrimination and violations of the Fair Labor Standards Act (FLSA), the Family and Medical Leave Act (FMLA), the Uniformed Services Employment and Reemployment Rights Act (USERRA), and other employment laws.
Rachel also defends discrimination claims arising under the Fair Housing Act.  In addition to her litigation practice, Rachel drafts employee handbooks, employment agreements, non-competition agreements and separation agreements.  She regularly counsels clients regarding workplace issues and compliance with the FMLA, FLSA, WARN Act, the Affordable Care Act, and other employment laws.  Rachel also has extensive experience in conducting independent internal investigations.