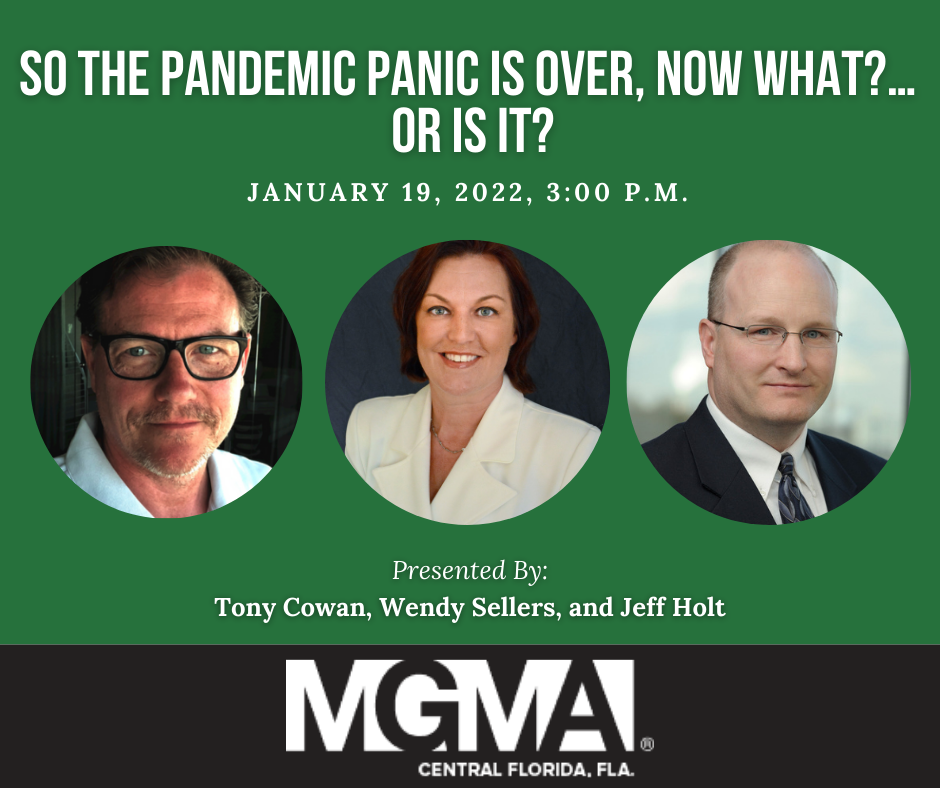 At our virtual meeting on Wednesday, Jan. 19, 2022 at 3:00 pm., Tony Cowan, Wendy Sellers, and Jeff Holt will be presenting So the Pandemic Panic is Over, Now What?… OR IS IT?
Location: Zoom
Jeff Holt will be moderating our Zoom meeting where Tony Cowan will be discussing "From Panic to Persistence" and Wendy Sellers will be discussing "Keep Your Company In Compliance With Covid Related Workplace Mandates".
Tony Cowan is a healthcare technology integration entrepreneur with over 30 years of project management experience. His consulting services include working with hundreds of physician groups to open ambulatory surgery centers (ASC)s on time, and on budget. He provided risk management services while delivering compliance programs that exceeded ongoing Joint Commission accreditation standards.
Wendy Sellers, The HR Lady ® has over 25 years' experience in HR, change management, recruiting, operations, strategy, and leadership development in all size businesses (local startup to global enterprise) in a wide variety of industries and lifecycles. She has a Master's degree in Human Resources Administration and a Master's degree in Health Care Administration and a lengthy list of certifications and licenses. Wendy has stayed on top of the ever changing COVID related OSHA rules and government regulations and is here to present the most up to date information that your business needs to be aware of from general employee safety to mandatory vaccination requirements.
Jeff Holt is a Senior HealthcareBusiness Banker for PNC Bank. He has over 16 years servicing only Healthcare Clients. He supports medical practices by revenue cycle review and enhancement and practice transition support with specialized leanding healthcare banking services.