HR and Employment Law:  Year in Review & What's New for 2016 | Weds., 1.13.16
You're invited!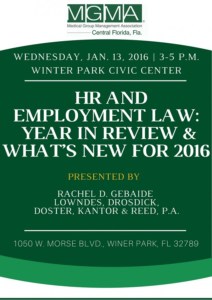 Join us to find out what's new for 2016 and take a look back at 2015. Jumpstart the new year with the information and updates you need to start 2016 (and beyond) off right.
You won't want to miss this highly informative presentation from Rachel D. Gebaide of Lowndes, Drosdick, Doster, Kantor & Reed, P.A.
Presentation topics will include:
U.S. Supreme Court: New Test For Accommodating Work Restrictions Based on Pregnancy
NLRB: Flexing Muscle in Your Union-Free Practice
FLSA:  How Proposed Regulations Will Affect Your Practice
Wage and Hour Matters:  Is Your Practice Compliant?
About Our Speaker
Rachel D. Gebaide is a Partner at Lowndes, Drosdick, Doster, Kantor & Reed, P.A.  Rachel chairs the firm's Labor and Employment Law practice and is a member of the firm's Health Care PracticeGroup. Rachel represents companies in the management of their human resources issues. She regularly represents employers in federal and state courts and before administrative agencies in defending against claims involving allegations of employment discrimination and violations of the Fair Labor Standards Act (FLSA), the Family and Medical Leave Act (FMLA), federal and state discrimination laws, and other employment laws.
In addition to her litigation practice, Rachel drafts employee handbooks, employment agreements, non-competition agreements and separation agreements.  She regularly counsels clients regarding workplace issues and compliance with the FMLA, FLSA, WARN Act, the Affordable Care Act, and other employment laws.  Rachel also has extensive experience in conducting independent internal investigations. Rachel is a frequent speaker on employment law issues. She writes on employment law developments for client-focused publications, legal industry news outlets, and the firm's employment law blog, www.theemployerlawyers.com.
Rachel is a member of the American Bar Association, Federal Bar Association, and the Orange County Bar Association. She is a member of the Labor and Employment Law sections of the ABA and FBA and previously served as chair of the OCBA Labor and Employment Law Committee.