August 18, 2021 | Member Meeting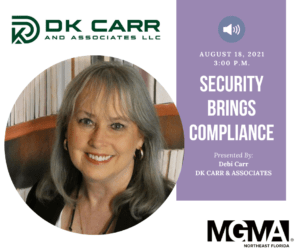 At our in-person meeting on Wednesday, August 18 from 3-5 p.m., Debi Carr will be presenting Security Brings Compliance.
Location: Venue on the Lake, The Greater Maitland Civic Center
641 Maitland Ave. South, Maitland, FL 32751
Cyber-attacks are a real threat to a private practice. Recent changes to HIPAA as well as other federal and state laws, could adversely affect a practice financially as well as affect their reputation. HIPAA was imposed 25 years ago, yet misinformation is rampant among healthcare professionals. A lack of an accurate understanding of the law could be devastating to a practice in fines and penalties. This course will review recent updates to HIPAA as as well as the 21st Century Cares Act, and other state and federal laws to keep you in compliance.
• Explore updates to existing laws that begin implementation in 2021
• Understand the requirements of HIPAA Security and Privacy Rules
• Learn what is required for a HIPAA Compliant Program
• Dispel many of the myths of HIPAA and other state and federal law
We are looking forward to seeing everyone!
We also encourage wearing a mask and social distancing throughout the event
Sorry. This form is no longer available.