CFMGMA's Holiday Party | Wednesday, December 6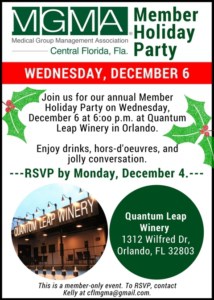 You're invited!
Join your fellow CFMGMA members for an evening filled with holiday spirit, networking and giveaways (assuming you aren't on the naughty list of course). Our annual CFMGMA Holiday Party is on Wednesday, December 6 at Quantum Leap Winery located at 1312 Wilfred Dr, Orlando, FL 32803 from 6:00 p.m. – 8:00 p.m.
This exclusive and free event is for CFMGMA members only. Come on down for some holiday fun and cheer with your health care management peers, colleagues, and friends.
If you have any questions, please contact Kelly at cflmgma@gmail.com.